Although small, sportier models are incredibly popular in this fast-paced millennium, some people simply cannot shake the trucker spirit in them as they prefer bigger, stronger cars that fit their rugged lifestyles. But, this is the 21st century and as much as people appreciate a "tough" car, they are also looking to keep as up to date with modern technology as possible. That is why the Ford F-150 is perfect for anyone in search of a car that is both tech savvy and rugged.
Built for heavy duty towing, the Ford F-150 is a powerhouse car with the body to match. Made out of aluminum alloy and equipped with military style strength, this model not only delivers when it comes to capability but, it also offers a frame built with material that is both durable and not easily corroded. In addition to all of this, the Ford F-150 comes in at a lower weight than previous models complete with up to 6 wheel designs that range from 17 to 22 inches in diameter.
2017 Ford 150: Performance Redefined
The new F-150's 3.3-litre V6 engine has been developed with a direct-injection capacity that facilitates a greater input of power, allowing for a more eco-friendly approach to the automotive industry. With a performance of 282 hp and 235lb-ft of torque, this model is the perfect embodiment of strength and efficiency rolled into one.

 

In addition to the tremendous preformance, it has a very high safety rating becasue the 2017 Ford F-150 comes with Pedestrian Detection and Pre-Collision Assist, designed to help drivers avoid oncoming collisions. Radar and camera technology acts as a bonus for maintaining road and traffic awareness.
2017 Ford F-150: Innovative Technology At Your Fingertips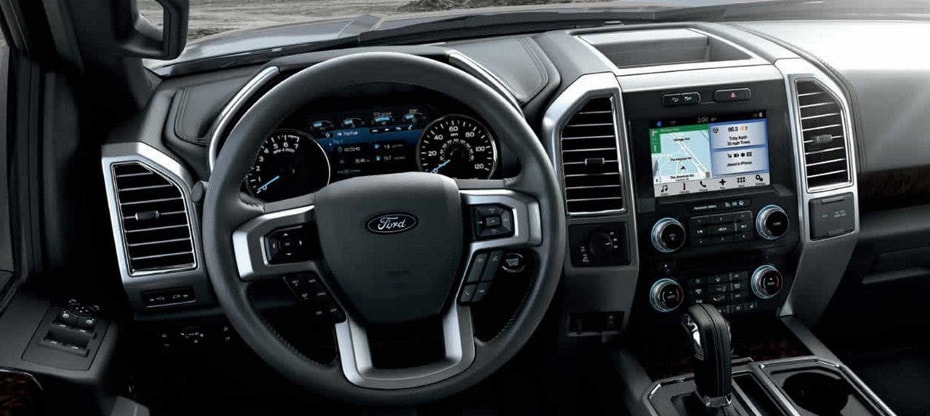 The F-150 also acts as a hotspot for Wi-Fi connection, keeping both passengers and the driver connected, a must in this tech-crazed society we live in today. To facilitate this connection, a 4G LTE modem is embedded in the car's system and it supports up to 10 mobile devices at any given time in any given place. Another cool addition to this model are high-end speakers, complete with B+O PLAY, sound and tuning to give passengers a quality, satisfying experience while listening to their favorite tunes etc. As with most modern cars and brands, it also comes with Apple CarPlay and Android Auto compatibility.
Visit Bill Utter Ford of Denton, TX
The Ford F-150 is perfect for everyone from the young to laid back truckers and drivers are encouraged to consider making the bold investment and buying the truck today at Bill Utter Ford In Denton, TX